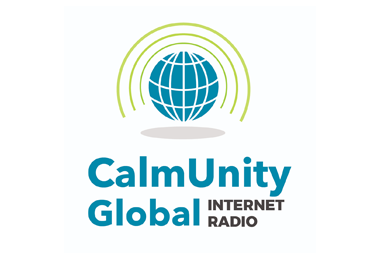 HASPI has a virtual communication tool for outreach and information on subjects including health policy, humor, under-reported factual news, unique general interest stories, and music from around the globe.
Many internet radio services offer traditional programming, sports, and talk. CalmUnity Global Internet Radio will provide programming that encourages calm unity in your neighborhood and around the world.  CalmUnity is hosted through radio.co out of Manchester, England.  Our audio engineer resides in Auroville India, and CalmUnity programming is created in Sacramento California.  CalmUnity Global Internet Radio is truly a global internet radio station that consciously supports inclusiveness and human collaboration in multiple dimensions of human activity.
CalmUnity's programming is focused on informed relaxation and reflection for listeners. Featured segments discuss discoveries in the physical/spiritual universe of health and self-care.
Have you ever tried Yoga Nidra meditation? Now you can. Led by Veronik Meneteau, an experienced Yoga Nidra teacher who resides in France and India, Vero shares her passion for reducing stress and giving human beings a concrete, usable tool to improve our lives, deepen our rest, and widen our consciousness.
Don't miss Vicki Karnes, RN, MS. Vicki has had double careers. First as a Captain with Delta Airlines. One of her programs is the feature "Who Is In Seat 1-A?" Hint: that particular passenger was known by three initials and served on the U.S. Supreme Court. Karnes is now a leading Diabetes Educator in the greater Atlanta area and gives solid and smart advice to those concerned about this important health problem that affects millions worldwide.
How about spending a half-hour with Dr. John Schafer, retired Northern California neurologist whose work and commitment to the Multiple Sclerosis community has changed lives and expectations? Dr. John's Insights and experiences shed light on future possibilities and promises. Interesting people and interesting times. Many more health-related programs are available on demand at CalmUnity.
For something completely different, segments of The Essence are as close as your laptop, mobile, or tablet. Featured Essence presenter, author and consciousness pioneer, Dr. Pravir Malik takes a deep dive into topics not usually explored. "Light and the Cellular Level" can take you into the life and times of cell awareness and how light affects our entire being. Soon, Dr. Malik will be guiding listeners in a new CalmUnity recording, "What is Love?".
Observations and Perspectives explores inspirational stories and contemporary lives of dynamic people such as Restauranteur Mai Pham, Sacramento's and Vietnamese food expert who escaped from Vietnam with her family in the 1980's. Mai speaks frankly and humorously about her life in Sacramento from her arrival, first restaurant experience, and her work on Vietnamese Food Nutrition Programs have turned heads and appetites toward her delightful culinary contributions. Judge Tom Petersen, JD and Therapist Terri Klaft Walsh along with Dian Kiser, Ph.D. share their experiences as VISTA volunteers in the 1960's living and working in Miami, Florida. Find out how Grassroot Realities reveals what has actually changed and what has not in the struggle for human rights. For instance, in a new audio selection, Judge Petersen discusses the juvenile justice system in the United States, it's history and efforts to change the lives of young offenders.
Don't be surprised to find special programming such as delightful readings by Narinder Dhaliwal, a native daughter of Coventry England, who befriends Ratty, Moley, and of course The Piper At the Gates of Dawn in her rendition of "Wind In The Willows". Then, when you're ready why not explore America's fascinating hesitance to embrace those peaceful, but revolutionary Scandinavian creatures, The Moomins. The "Aunties of the Golden West" ask the piercing question, "Moomins – Are We Afraid of Them or What?".
Saluting the world, Spotlight On concentrates on recognizing and honoring the accomplishments and singular realities of countries and cities worldwide. Know anyone in Republic of the Congo Brazzaville, Auroville, India or even Toronto? CalmUnity will take you there.
New musical offerings wait to be discovered in CalmUnity's Worldwide Musical Library. If you are a jazz fan, welcome home! West Coast Jazz Diva, Vivian Lee can be heard often. Ms. Lee, who began singing jazz at age 37, provides an intimate interview about her musical evolution. In addition, where else can listeners find Scandinavian Filmy Ghost; the Red Army Chorus; Song of a Thousand Birds; Throat singing with Tabla, to name just a few musical explorations? All noteworthy, unique and in one place for the pleasure of your ears and psyches.
CalmUnity Global Internet Radio is an offering from the heart of the Health And Social Policy Institute – HASPI. We hope it will be your portal to a wider world. We trust that it will allow listeners to genuinely realize they are part of the dynamic and inevitable human evolution. It can be challenging to fathom but also moving, comforting, and ultimately the birthright of every being on this precious planet.
Tuning-In can be as easy as clicking this link. Care to join us?
CALMUNITYGLOBAL.ORG – Home